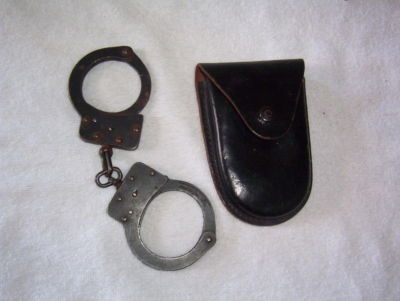 About a week ago I got a message from a very nice lady. She said she was cleaning out her late father's garage and made a very interesting find.
She found a leather case and inside were a pair of handcuffs.
The cuffs were found in
Romeoville, IL
. Her father was a supervisor at General Motors so this was very odd. The lady said her family had never been in trouble with the law so they were most likely never used on father. She had no idea why they would have been with his possessions.
The most odd thing about them though was that they were engraved, like by hand with a
Dremel Tool
or something. The engraving says:
11/9/04 William G. La Fleur
We think Dad was the only William G. La Fleur to ever serve on the Chicago Police Department.
The lady who found them started investigating. Apparently the brand (Chief of Police from Japan) is a brand that the Chicago Police use and these were made in the 1970s. They are well used so they could easily have been Dad's, except he retired from the CPD in 1997.
I wondered if they hadn't been from Dad's time in the MPs with the Illinois National Guard, but he retired from the Chemical Brigade in 1998 and hadn't been with the MPs since the 80s or 90s (if I remember correctly). Mom, Dad and Elizabeth had moved to Rochelle in 1998.
As far as my mom; my brothers Shawn and Garrett; and I know, November 9, 2004 was not a specifically important date in our family. There was a William La Fleur in the employ of the City of Chicago in 1904, but he was a fireman and the cuffs aren't old enough anyway.
The lady said she was sure they had once belonged to Dad, so she wanted to get them back to the family. I've asked her to send them to me. When I get them I'll photograph them and share the photo here.
If you know anything about these cuffs or might have an idea of their story, please let me know.
I've made up a story in my own mind about them, worthy of a Papa Story, complete with aliens and mysterious nights and Ernie the cop. I'll go with that if no one can come forward. Like the best Papa Stories I will even have physical evidence.